Beaches in Split are very clean. Once you arrive in Split, an you are on the "Riva" (city center), you might think in front of you is some beach, but that's in fact the city harbour which is quite big with arriving ferries and cruise ships, so no swimming there.

Going west (from the center):
Zvončac – also called Jadran, is a concrete beach with a coffee shop well equipped with sunbeds and parasols. Here you can relax with a coffee or a cocktail. Behind the beach there is a park also called Zvončac. This beach is about 10 min walk from the center.
Ježinac – is a rocky beach ideal for rock climbing and cliff jumping (for organized tours visit given2flyadventures.com). It's about 15 min walk from city center or you can take a bus from the church of St. Frane.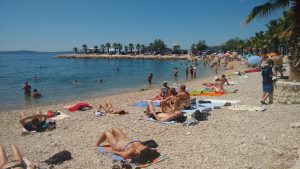 Kašjuni – recently renovated beach, it has a beach bar, canopies, sunbeds, parasols and a nudist beach to the west. You can also come here by the bus from the church of St. Frane, or or by boat from the west coast.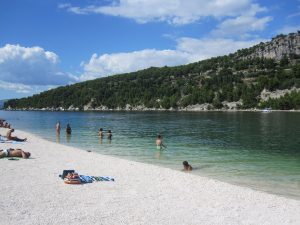 Bene – is a small beach on Marjan hill. It's ideal if you want to combine walking or jogging through the Marjan park forest with swimming. There are also sport courts and children's playground. This beach is about 20 min from the center.
Going south:
Bačvice – is the nearest beach from city center (about 15 min walk). This beach is the most popular among tourists as well as locals. Traditionally the locals play a popular game with the ball, called picigin. The beach is shallow up to 50 meters, making it popular with non swimmers and families with children. This is a beach with fine sand but no sea urchin. There is a beach bar above the beach. This beach has a blue flag which means it's one of the cleanest beaches.
Ovčice – small beach, not very popular. It has a coffee shop. It's about 20 min walk from the center.
Firule – sitting in a small bay 1.6 km from the center is the variety-rich, tree-lined Firule Beach stretching out beneath some residential buildings. The sandy beach is easily accessible by taking the stairs and paths from the above lying parking lot. A beach bar adds variety and serves refreshments. Large amounts of shade does not exist, so you should bring an umbrella.
Zenta – it's mostly a marina, but there is also a small beach.
Trstenik – is a rocky beach with a beach bar.
Žnjan – is the biggest beach consisting of about 5 small beaches. You can reach it by bus 15 from the center, or a half hour walk. At the moment there are no coffee shops or beach bars, but there are plans to build a hotel, maybe even this season. Here you can find a beach for dogs, and a beach for disabled people.