Šolta is an island in Croatia. It is situated in the Adriatic Sea in the central Dalmatian archipelago, west of the island of Brač, south of Split (separated by Split Channel) and east of the Drvenik islands. Its area is 58.98 km2 and it has a population of 1,700 (as of 2011).
The economy of the island is based on vineyards, olives, fruit, fishing and tourism.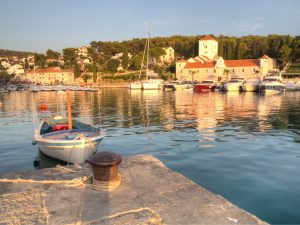 Settlements
The settlements on the island are: Stomorska, Gornje Selo, Nečujam, Grohote, Rogač, Srednje Selo, Donje Selo and Maslinica. While the main settlements (Grohote, Gornje Selo, Srednje Selo, Donje Selo) are inland, the main fishing center is Maslinica, which is exposed to only north-westerly winds, making it a good shelter for smaller boats. Rogač is the main port and Nečujam the centre of the island's tourism.
Beaches
Šolta is an island yet to be discovered – its southern bays are a true gem and a must-see! The more or less indented,turquoise oases are ideal for single day excursions, exploration adventures, bathing, swimming, fishing, etc. As soon as you move away from the shore, you will be stunned by the powerful, dark blue open sea that can take you to the nearby islands of Vis and Hvar.
Probably, the most popular bay is the Blue Lagoon near Šolta island, on small islet Drvenik. It's amazing crystal clear waters and pebble beaches will leave you breathless.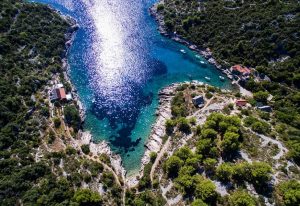 Šolta's southern part is a true treasure for boaters, hikers, inquisitive souls, islanders… On the route from Maslinica in the south-west, all the way to the other end of the island,i.e.to the capes close to the island of Brač and Livka Bay in the south-east, one can find a number of hidden coves alongside the entire southern side. The series continues on the northern side of Šolta, too.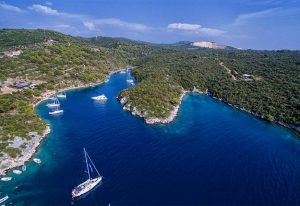 Transport to Šolta
You can reach Šolta from the Split ferry port by ferry or catamaran.
By ferry: If you arrive to Split by car, you will have to take a ferry to Rogač, the main island port. It takes one hour to get to the island. You can buy ferry tickets at one of Jadrolinija'sticket offices in the ferry port. For ferry timetables and online ticket purchase visit: www.jadrolinija.hr
By catamaran: Split and Rogač are connected by catamaran on a daily basis. It takes 30 minutes to get to the island. www.jadrolinija.hr
In Rogač, two buses will wait for the passengers to take them either to the eastern (Stomorska) or the western part of the island (Maslinica).